News
Bregu: Congratulations to all Balkathon winners who showed young people of our region are innovative and creative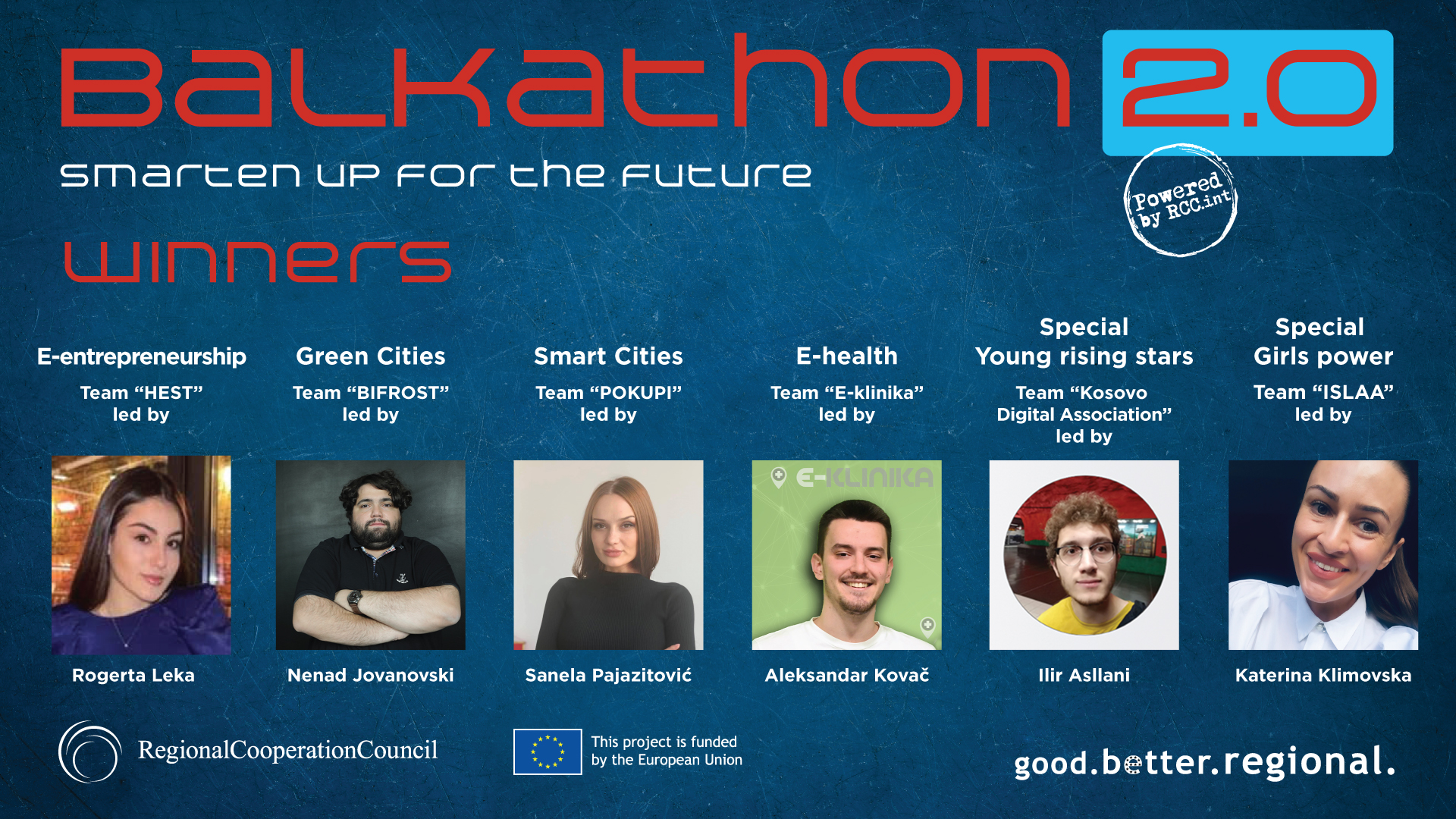 6 winning ideas from the Western Balkans awarded at the final Balkathon 2.0 competition ceremony today
Sarajevo/ Podgorica/Tirana – The Regional Cooperation Council (RCC) presents winners of the second Western Balkans online competition for the best digital solutions, BALKATHON 2.0:
Rogerta Leka and 'HEST' team from Albania with the idea of digital marketplace focused on trading of fresh agricultural products, in e-Entrepreneurship category - 10.000EUR;
Nenad Jovanovski and 'Bifrost' team from Serbia with the idea of an eco-sustainable and affordable single-use packaging fabrication machines that will contribute to reduction of polymer plastic pollution, in Green City category - 10.000EUR;
Sanela Pajazitović and 'Pokupi' team from Montenegro with the idea for taxi service provider, in Smart City category - 10.000EUR;
Aleksandar Kovač and 'E-klinika' team from Bosnia and Herzegovina with the idea to make an on-line platform that makes a doctor appointments easier and faster for both patients and medical staff, in E-health category - 10.000EUR;
Ilir Asllani and 'Kosovo Digital Association' team from Kosovo* with the idea to offer faster, closer, and less expensive health services to patients regardless of the distance, special award Young Rising Stars - 7.000EUR;
Katerina Klimovska and 'ISLAA' team from North Macedonia with the idea of a digital platform for connecting small businesses, special award Girls Power - 7.000EUR.
All winners will get an opportunity to implement their idea in the Western Balkans and present it at the 4th Western Balkans Digital Summit 2021 in Montenegro, which is this year's host.
"I congratulate all winners who showed young people in the region are innovative and creative. I am sure we will become better with your contribution, because future is not tomorrow but it has already started. All of us are still time after time confused about where to go next, that is why we are pleased that ideas as Balkathon, Futourismo, Digital Summit, Youth Lab, Creating diaspora initiatives are not isolated actions, but part of holistic human capital agenda we are perusing as part of Common Regional Market vision," said Majlinda Bregu, RCC Secretary General.
"Last year we set on a journey to practically support innovation, entrepreneurism and our youth to demonstrate and nourish our region's drive and creative potential. We were positively surprised that four months after Futourismo competition you delivered again even more innovative and creative digital solutions from all over Western Balkans. These initiatives are important for trying to offer young community opportunities and give them a chance to be involved in regional and EU agendas. Balkans should be a place where young people could be creative and have all the chances to live,'' added Bregu.
Tamara Srzentic, Minister of Public Administration, Digital Society and Media of Montenegro said at the opening of the ceremony that she "is delight to see such innovative solutions coming from all over the Western Balkans six and highlighted that the only way to meaningfully change our region if by all of us coming together as one team."
Acting Director, from the Directorate General for Neighbourhood and Enlargement Negotiations, European Commission, Michela Matuella also expressed her support to this event and congratulated the RCC for recognising the importance of innovative potential the region has.
"European Commission is happy to be supporting this as part of Common Regional Market initiative. Past year has clearly showed us the importance of digitalisation and initiatives like this are fantastic tool to bring together young and creative minds to find innovative solutions for challenges our societies face.''
Balkathon 2.0 competition started on 5 May 2021, with an open call to all interested Western Balkan citizens, start-ups, entrepreneurs, students, digital innovation hubs, scientific parks, universities, SMEs who had an innovative idea in Smart City, E-Health, Green City and E-entrepreneur.
Out of 90 applicants with 90 ideas, 37 teams with over 120 team members were shortlisted and they got an opportunity to work with assigned mentors, while 12 finalist teams got an opportunity to present their ideas to the expert jury which decided on 6 winners.
The entire final Balkathon event was streamed live on the RCC's You Tube Channel and Facebook Page.
***
Balkathon is a regional competition financed by the European Union and implemented by the RCC with the aim to invite all interested young people, start-ups, entrepreneurs, students, digital innovation hubs, scientific parks, universities, SMEs, etc. from all the Western Balkan economies to propose and develop innovative digital solutions in response to challenges of our daily lives.