News
Balance between prevention and deterrence one of key elements for successful, structured approach to formalizing undeclared work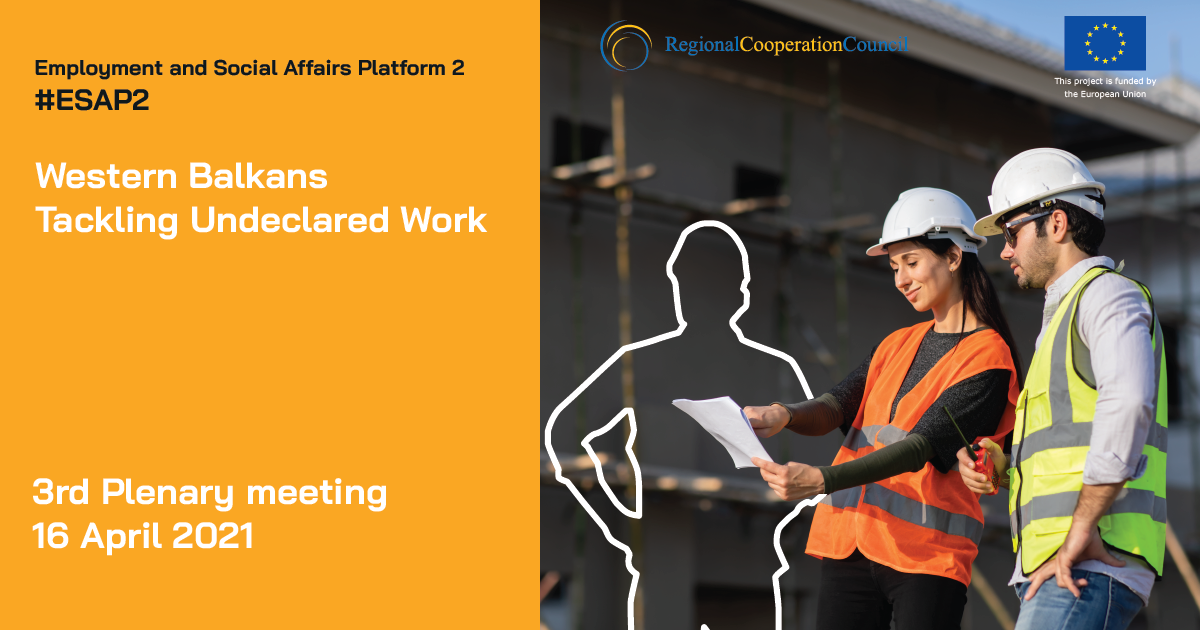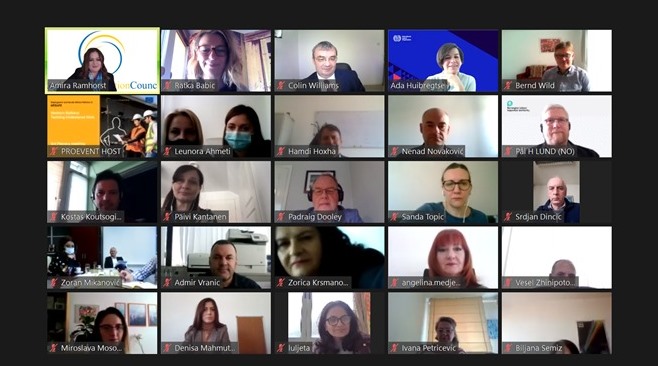 Third Plenary meeting of the Western Balkan Network Tackling Undeclared Work held online today under the RCC-implemented and EU-funded ESAP 2 project
Sarajevo – "COVID 19 pandemic introduced many new challenges to labour markets globally and in Western Balkans, as this region has low activity and employment rates on one hand and high rates of informal work on the other. Current times are very challenging and the pandemic is impacting both formal and informal jobs. We at the RCC ESAP 2 project are glad and honored to partner with government institutions and social partners across Western Balkans on finding the best ways to transform informal to formal employment, for the benefit of all – workers, employers and governments," said Amira Ramhorst, Team Leader of the Regional Cooperation Council's (RCC) Employment and Social Affairs Platform 2 (ESAP 2) project that organized 3rd online Plenary meeting with Western Balkan partners engaged in tackling undeclared work through structured regional cooperation.
"We are also honored that Bernd Wild from the European Commission's Directorate-General for Employment, Social Affairs and Inclusion and representatives from a number of peer government institutions from seven European countries, six of which are EU Member States (Croatia, Greece, Finland, Ireland, Netherlands, Slovakia, plus Norway), could join us today as the EU enlargement perspective and alignment with employment policies is of importance for the Western Balkans."
"In the European Union, the transformation of undeclared work into declared formal work is important to achieve a fairer labour market and to deliver on the European Pillar of Social Rights. The European Union has launched an ambitious Action Plan on the European Pillar of Social Rights, which foresees inter alea the strengthening of Public and Employment Services (Effective and Active Support to Employment) and a new 2030 headline target for the employment rate of at least 78% of the population aged 20 to 64," said Wild.
ESAP 2 Observatory on employment in the Western Balkans shows that the average activity rate in the labor markets in the Western Balkans region was 61% in 2019, and although numbers for the coronavirus-struck 2020 are still not final, they will likely show no improvement. The same applies for employment rate in 2019 which stood at 51,5% and also the estimates that highlight that between 18- 30% of labor force in the region are employed informally. The economic recovery of Western Balkan economies requires a structured, holistic approach to the labor markets, with emphasis on the undeclared work and approaches to formalize it."
Professor Colin Williams, ESAP 2 Lead Expert on Undeclared Work, and also the led expert for the European Platform Tackling Undeclared Work, shared with the participants the importance of the holistic approach to informal employment, where a whole government approach with joining-up on the level of both strategy and operations in the policy fields of labour, tax and social security law is important, as well as involving social partners, and using the full range of direct and indirect policy measures available to enhance the power of, and trust in, authorities respectively.
"Today we're rethinking the future objectives, roles and competencies of labour inspectorates, where the holistic approach has significant implications on their skillsets, expertise and competencies. One of the implications of such an approach is certainly the adoption of preventative approaches and a good balance between deterrence and prevention. A wider range of professional qualifications, knowledge, skills, attributes and competencies, includes, amongst other things: soft skills, such as customer-friendly skillsets and communication skills, to provide advisory and support services, and evidence-based policy evaluation skills."
Today's online meeting was the 3rd plenary session gathering representatives of Ministries of Labour, Labour Inspectorates and Tax Authorities from the six Western Balkan economies, European Commission and International Labour Organization (ILO), RCC's implementing partner in ESAP 2 project. In addition to discussing objectives, roles and competencies of inspectorates and inspectors in tackling undeclared work, the participants also talked about the activities undertaken by the ESAP 2 so far, and outlined the 2021 work programme.
Presence of over 40 representatives from Ministries of Labour, Tax Authorities and Labour Inspectorates and other partners from six Western Balkan economies speaks to most active engagement and commitment to cooperate, exchange knowledge and best practices within the Network towards the transformation of undeclared work into declared work within the region.
***
Following Monday, 19 April, ESAP 2 convenes the Western Balkan Network Tackling Undeclared Work, for an interactive seminar with Ministries of Labour, Labour Inspectorates, Tax Authorities and social partners from the Western Balkans to discuss how to improve the involvement of social partners in tackling undeclared work, based on the findings of the survey of social partners conducted in late 2020.