News
Economic growth goes hand in hand with human capital development – investment in education must increase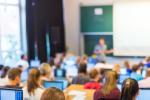 RCC and its Employment and Social Affairs Platform Project (ESAP) attended the EU-Western Balkans Stakeholder Conference on Employment and Social Affairs in Luxemburg
Luxemburg – "Years in a row our opinion survey Balkan Barometer shows that unemployment is the biggest concern for 67% of the citizens in the Western Balkans (WB), and our alarms should have already gone off, triggering adequate reactions. This region has talent everywhere but their skills have to be developed properly. The answer is in coordinated and coherent policies that will enable macroeconomic stability, a business and investment-friendly climate, strong human capital and enhanced entrepreneurial skills, especially among youth", said Nand Shani, Team Leader of Regional Cooperation Council-led (RCC) EU-funded Employment and Social Affairs Platform Project (ESAP), on the occasion of the EU-Western Balkans Stakeholders Conference on Employment and Social Affairs that ended in Luxemburg yesterday.
Shani reminded that the region suffers from an evident mismatch between education and training outputs and the skills demanded by the labour market, which the 2019 edition of Balkan Barometer confirms revealing that almost 40% of executives from WB reported having difficulties successfully closing job vacancies and the dominant reason (2/3) is the applicants' lack of skills.
"Direct investment in education is only 13 million euro over the 10-year period, whereas the actual need as assessed is approximately 280 million euro. The region has committed to implement Multi-Annual Plan for Regional Economic Area (MAP REA), involving around 110 actions but falling short in the social dimension. We need a comprehensive agenda that combines research and development, innovation, education, employment and social inclusion policies as we cannot continue focusing on economic growth strategy without addressing Human Capital Development. It would be in the interest of private companies as well to jump aboard an effort of joint funding in human capital development as it will ensure qualified labour force, one of the continuous challenges faced by investors," concluded Shani, adding that the ESAP project supports institutional capacities of the Western Balkan economies in creation and implementation of the employment and social policies that would address systematic weaknesses.
***
The first EU-Western Balkans Ministerial meeting on employment and social affairs, took place in Luxembourg on 12 June, bringing together Ministers from the current Trio Presidency of the Council of the EU – Romania, Finland and Croatia, together with the European Commission, and their Western Balkans counterparts to discuss a range of employment and social policy issues. It was followed by the Stakeholder Conference a day later.
Both events were organised by the European Commission's Directorate-General for Employment, Social Affairs and Inclusion.