News
Tackling undeclared work in times of COVID 19 pandemic focuses on prevention of declared work sliding back into the undeclared zone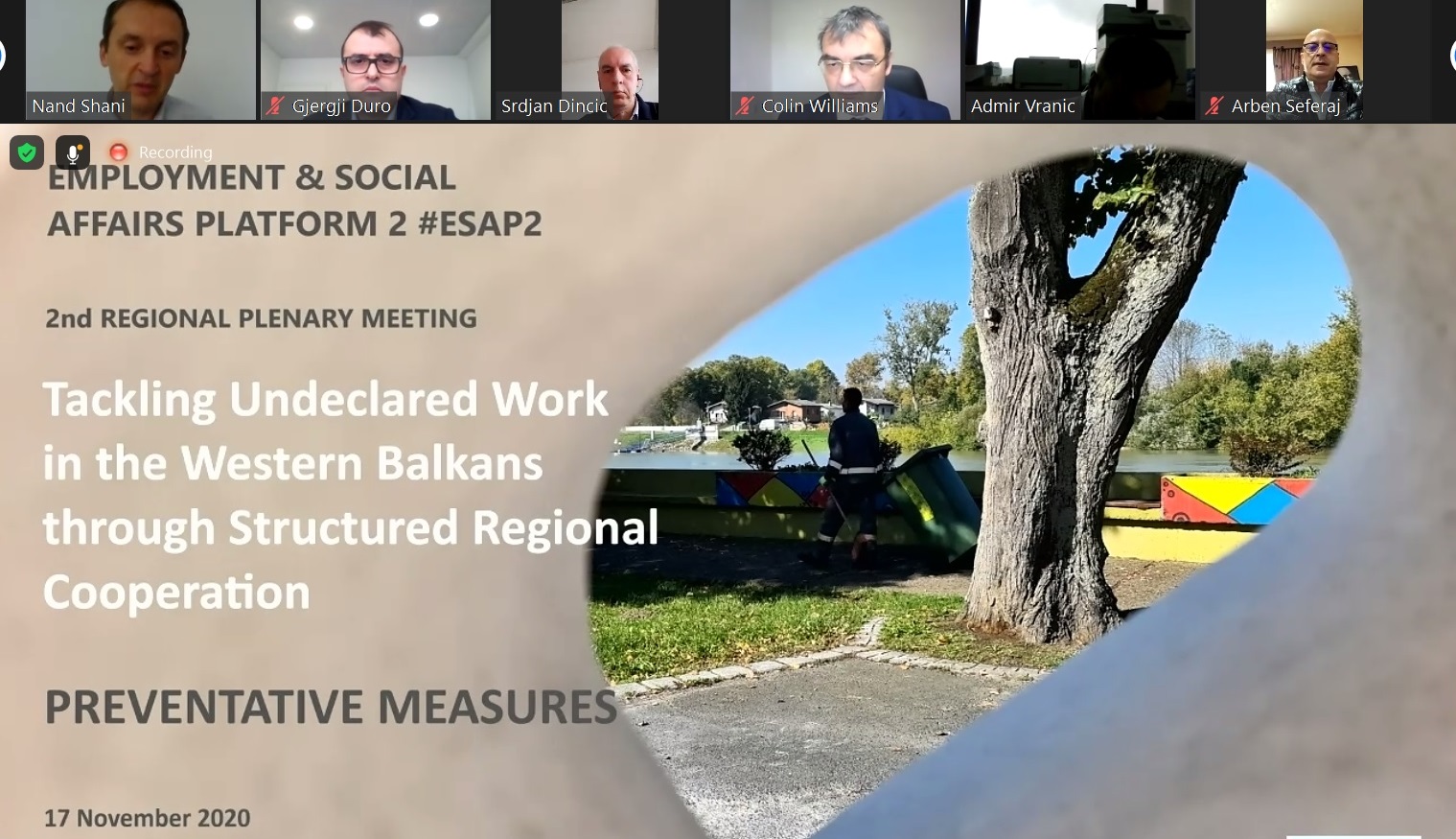 2nd Regional Plenary Meeting dealing with undeclared work in the Western Balkans focused on preventative approaches to tackling the undeclared work
Online – "The main aim of our work being the promotion of regional cooperation in transforming the undeclared into declared work in the Western Balkans has so far resulted in gathering of the relevant region's institutions around the regional Network. Today, at its 2nd plenary meeting the Western Balkans Network Tackling Undeclared Work shows commitment to deal with this demanding issue even in these specific and challenging labour market circumstances of COVID 19 pandemic, when we all struggle to prevent the current declared work sliding backwards into the undeclared zone", said Nand Shani, Team Leader of the Regional Cooperation Council's (RCC) Employment and Social Affairs Platform 2 (ESAP 2) project at the regional webinar on undeclared work in the region, held today.
"Estimates show that up to 30% of employed persons in the Western Balkans are involved in undeclared work, which is a big challenge for all labour markets in the region. Its transformation into declared work requires holistic, integrated, and strategic approach that we are trying to achieve through the regional Network, modelled on the European Platform Tackling Undeclared Work. Today our focus is on preventative approaches aimed at preventing undeclared work from happening, as we are to explore the possibilities and learn from each other how these measures work in practice."
Professor Colin Williams, Senior Expert on Undeclared Work with ESAP 2 project, while explaining cost-effectiveness of preventative approach to undeclared work illustrated it with health sector preventative and curative approaches, where prevention is less expensive than 'curing the illness' but highly efficient, as in the case of undeclared work phenomenon.
"When tackling undeclared work, enforcement authorities have traditionally relied on 'deterrence' policy measures that increase the costs of undeclared work, also increasing the probability of detection and/or sanctions for those caught ('sticks'). But this approach seeks to cure the problem of undeclared work once it has occurred, i.e. dealing with effects, but does not prevent it from happening neither does it enable a shift of undeclared work into declared work. However, in recent years, a more preventative approach has emerged that seeks to prevent undeclared work from happening in the first place."
Professor Williams also elaborated on a preventative approach to undeclared work listing some of the available measures: improving the ease and benefits of engaging in declared work; education and awareness-raising campaigns; modernising formal institutions; etc.
The participants, including representatives of Ministries of Labour, Labour Inspectorates and Tax Authorities from the Western Balkans, presented their practical experiences in tackling undeclared work in general and preventative measures in particular, attempting to identify which of these implemented measures might be transferable to other Western Balkan economies.