News
Moving Away from "Reducing Undeclared Work" Approach to "Transforming It into Declared Work" in the Western Balkans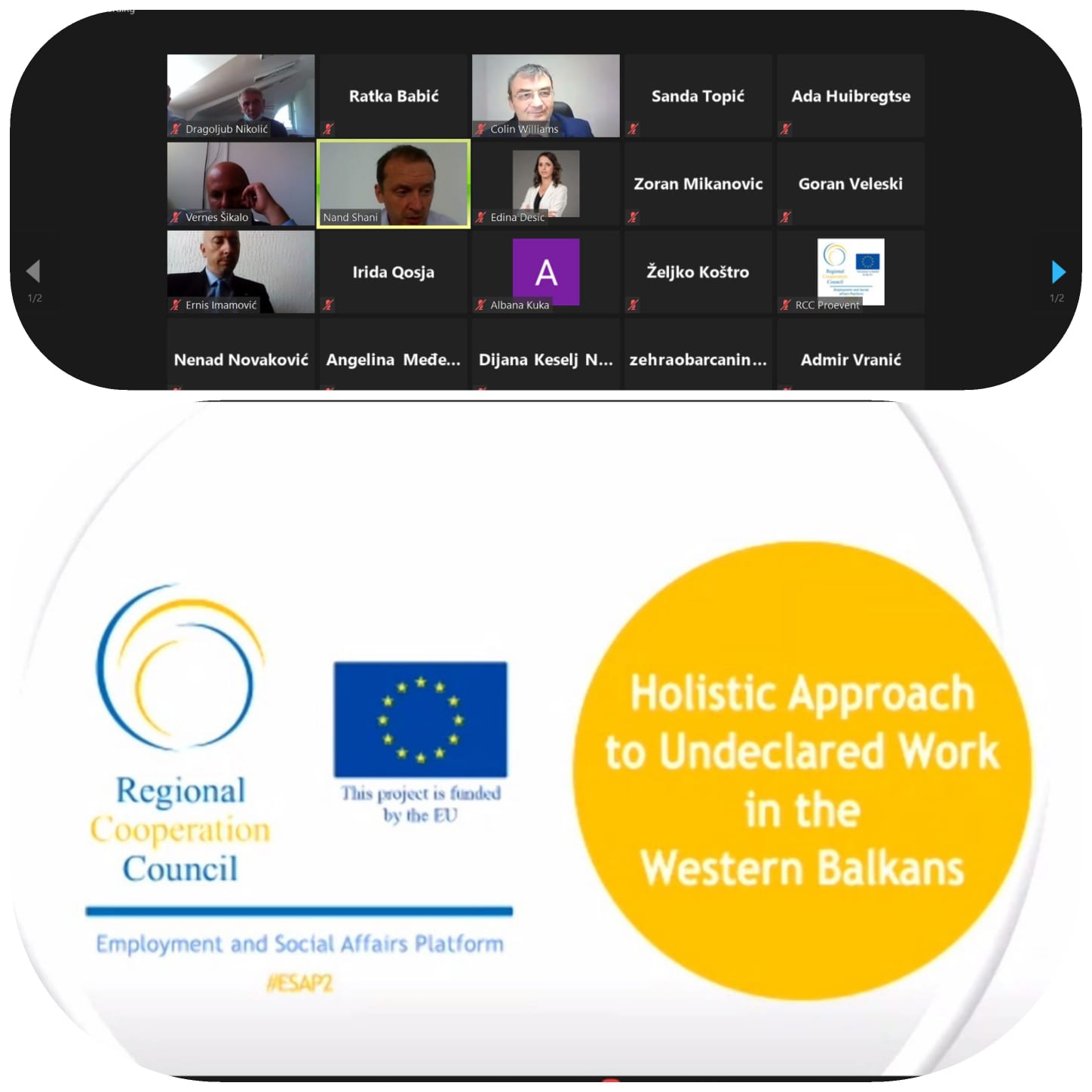 1st Meeting of the Western Balkan's Network Tackling Undeclared Work
Sarajevo – "Informal economy is a chronic problem of many economies, Western Balkans' in particular, as estimates show that up to 30% of the employed persons in the region work undeclared. Today's meeting is about to explore ways on how all institutions in charge of this issue – Labour Ministries, Inspectorates and Tax Authorities, can coordinate their work on strategic and operational level. The ultimate aim is to incentivize transformation of undeclared into declared work rather than to maintain the traditional approach aiming to reduce it altogether", said Nand Shani, Team Leader of the Regional Cooperation Council's (RCC) Employment and Social Affairs Platform 2 project (#ESAP2) welcoming the participants to the 1st meeting of the Western Balkans's Network Tackling Undeclared Work that took place online today.
Professor Colin Williams, Senior Expert on Undeclared Work with ESAP 2 project, explained the phased process to a full-scale holistic approach to undeclared work that involves three stages: 1) Shifting the objective from reducing undeclared work to its transformation into the declared; 2) Developing a whole government coordinated approach by introducing a cross-government joined-up strategy, by joining-up operations across government, improving the involvement of social partners, and cross-government cooperation on data mining, matching and sharing; and 3) Implementing the full range of policy measures, involving more effective sanctions, improving the risk of detection, including developing data mining, matching and sharing, improving the ease and benefits of engaging in declared work, education and awareness, and modernising enforcement authorities.
In simpler terms, Professor Williams explained that current practices of tacking undeclared work function as 'a stick', penalising, 'naming and shaming', while the new holistic, strategic approach would be more like 'a carrot' incentivising transformation of undeclared work by easier registration, society-wide amnesties, gradual formalisation schemes; and initiatives to ease the transitions.
The Western Balkans' Network Tackling Undeclared Work is modeled on the European Platform tackling undeclared work, established in 2016. Elodie Fazi, Policy Officer of the European Commission's (EC) Directorate General on Employment, Social Affairs and Inclusion (DG EMPL), who is also a coordinator of the European Network's Secretariat, presented their recent and future activities, mostly planned around the campaign on the right to fair and decent work (#EU4FairWork). Fazi stressed that according to the research done, 10% Europeans have purchased undeclared goods or services while a third of the surveyed (33%) knew someone who works undeclared, which represents a persisting challenge. Therefore, Fazi added, there was a consensus on the level of the European Platform to continue to focus on the holistic approach to undeclared work, introducing new concept moving away from inspections and penalties to deeper mutual strategic cooperation and coordination of the institutions, as it proved very beneficial.
The online Webinar was a mix of presentations and discussions that explored current activities of Western Balkan economies in tackling the undeclared work and exploring good practices that could serve as a model, based on joint actions and coordination of activities, to shift from reducing undeclared work to transforming it into declared, instead of a current scattered approach of the multifarious government bodies responsible for tackling aspects of the undeclared work, and limited integration of social partners. This meeting was the 1st in the series of the topic-specific meetings that would tackle each of the elements of the phased approach to tackling undeclared work, which are to follow during the life of ESAP2 project.
The Webinar was organised by the RCC's ESAP 2 project, gathering representatives of the Western Balkan Ministries of Labour, Labour Inspectorates, Tax Authorities and international partners i.e. EC's DG EMPL and International Labour Organisation (ILO), RCC's partner in implementation of ESAP 2 Project, which is funded by the European Union (EU).