News
RCC ESAP 2: Mutual Assistance Projects to Combat Undeclared Work in the Western Balkans Successfully Concluded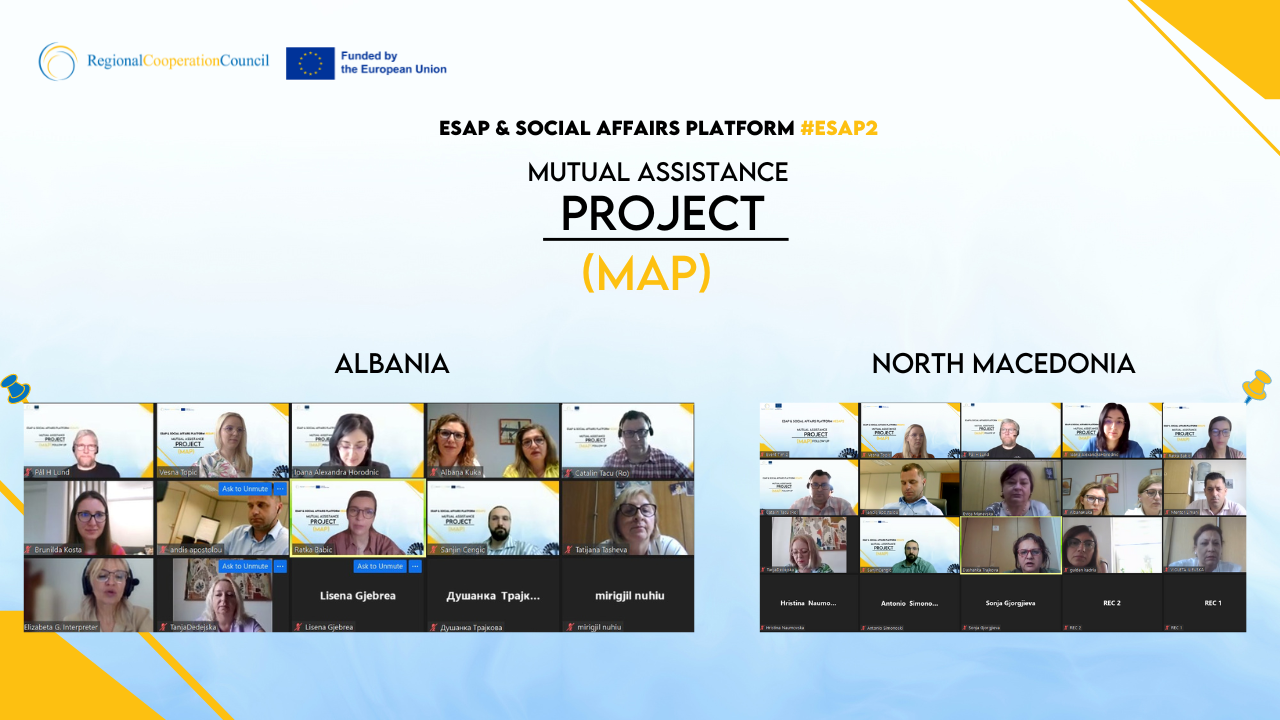 Regional Cooperation Council's (RCC) Employment and Social Affairs Platform 2 (ESAP 2) in partnership with Albanian and North Macedonian's Labour Inspectorates hosted the Mutual Assistance Projects (MAPs) aimed at enhancing the performance of Western Balkan enforcement authorities in tackling undeclared work. The session held today, with partners from North Macedonia was the last session in this cycle of MAPs, aimed at transforming undeclared work to declared work through holistic, systematic approach.
The meeting was opened by Ratka Babic, Acting Team Leader of the ESAP 2 project who expressed her appreciation towards the interest and commitment of project's partners from the region in fighting undeclared worked, expanding their knowledge and finding innovative solutions to solve this prevalent regional issue.
Both MAPs were chaired by Ms Ioana Alexandra Horodnic, ESAP 2 Lead Expert on undeclared work, and supported by European Platform for Tackling Undeclared Work experts Mr Pal H. Lund - Labour Inspectorate Norway, Mr Catalin Tacu - Labour Inspectorate Romania, and Mr Andis Apostolou - Labour Inspectorate Cyprus. Ms Brunilda Kosta, Professor on the Faculty of Economy in Tirana, Albania, made a valuable contribution to the MAP visit organised in Albania with her economy-specific knowledge, expertise and experience.
The engaged discussion on how to enhance performance in tackling undeclared work included the synchronization of tactics, strategic goals, and actions, data gathering, policy initiatives regarding improving sanctions and increasing the likelihood of detection, improving the advantages and convenience of formalisation, educational efforts and awareness-raising campaigns, as well as enhancing the engagement of social partners.
The host Inspectorates presented their modalities of work, followed by exchange of experiences with peers, identification of common challenges, and ways to overcome them. A set of peer recommendations and suggestions on how to best approach the identified challenges were provided within the MAP.
With this activity, RCC's ESAP 2 project rounded MAP vists, designed as hands-on assistance to enhance performance of a host institution and provide exchange of experiences, in order to, where possible, replicate good practices of peers from the region, European Union and other European countries. The format of open and transparent dialogue of MAPs is a non-judgemental, learning opportunity for all the participants and helps solve issues, provide advice and implementation support.