News
Eighth online training: Greening Apprenticeships − the role of apprenticeships in the green transition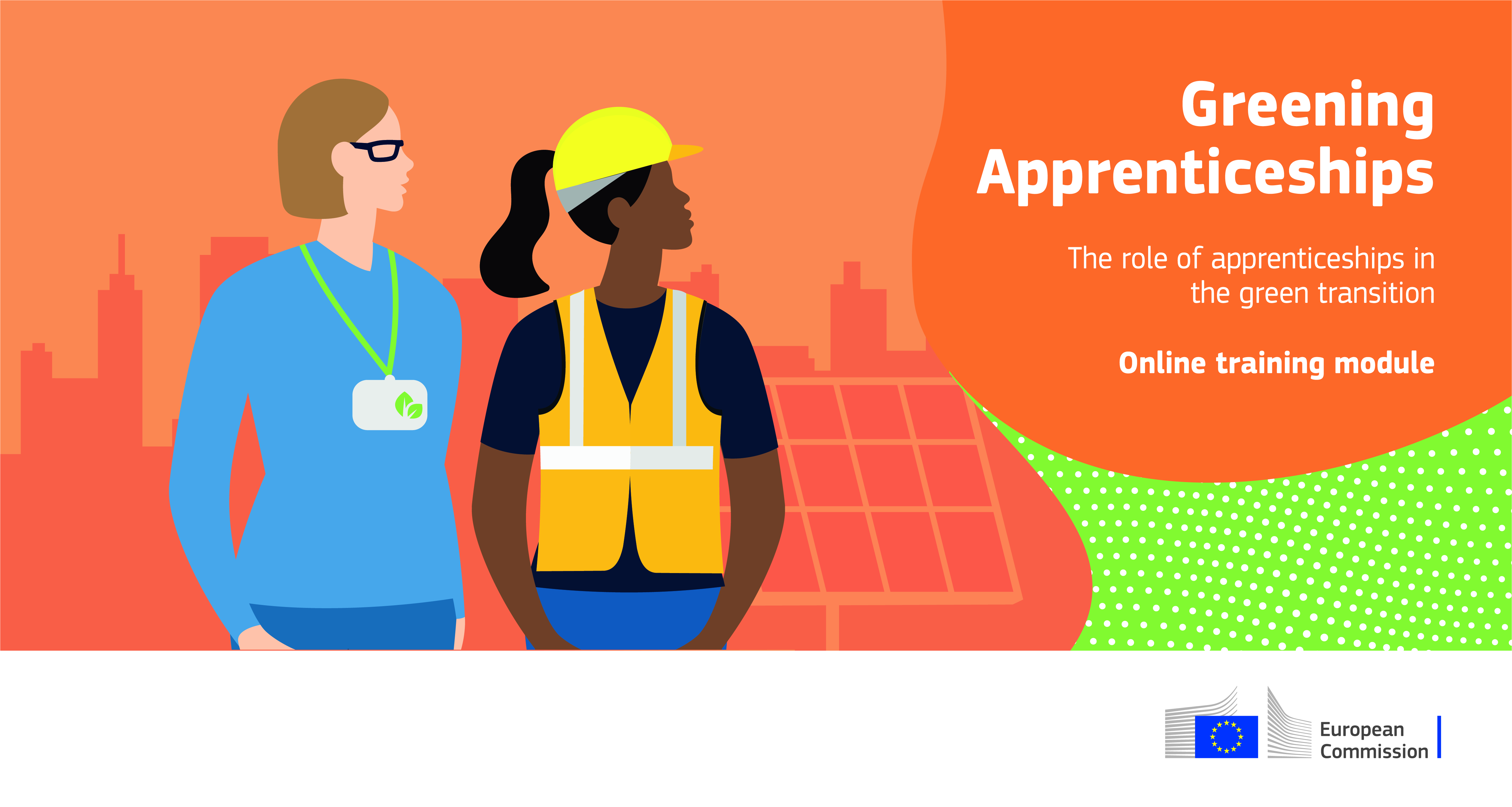 The European Alliance for Apprenticeships (EAfA) has launched the eighth in a series of online training modules designed to provide insight into apprenticeship systems within the EU.
Pollution and climate change pose unprecedented challenges. European economies and societies need a 'green transition' towards products and services that are climate-neutral and sustainable. With recent commitments, such as the European Green Deal, policymakers are working hard to put in place legislation and strategies to deal with climate change. This has resulted in a growing demand for a wide range of green skills. Greener apprenticeships can play a significant role in meeting this demand and supporting necessary developments for the green transition.
EAfA took a clear stand in 2020 on its role in the green and digital transitions, creating awareness-raising opportunities, developing informative activities and resources, and calling for new commitments towards green apprenticeships. This module is part of this effort, stressing once more that the green transition is one of EAfA's main priorities.
This module outlines the kinds of changes required to create greener apprenticeships and how these changes can be achieved at the policy, institutional and individual levels. It will take you through various interactive materials, infographics, and examples from different countries providing a range of additional resources along the way.
In this module, you will learn about:
why we need greener apprenticeships in the context of the green transition and the wide range of skills required;
how strategies and plans at the EU and national level can support the changes needed for greener apprenticeships, including the role of social partners;
what key roles teachers, trainers, VET providers, apprentices and employers can play in leading initiatives for greener apprenticeships;
what it means to take a green perspective to successfully address challenges in the journey towards greener apprenticeships.
How to participate
Click here to begin the module.
The module takes around 30 minutes to complete. Upon completion, you will obtain a certificate of achievement.
About the content creator
Andrew McCoshan is a Senior Expert in VET and Director of Plexus Research & Consulting. He has spent almost all of his 30-year career as a researcher and consultant in the field, contributing to or leading numerous European and international projects. He is currently a Senior Expert helping to deliver the European Commission's Apprenticeship Support Service and was external consultant to the VET Working Group (2018-2020) coordinated by the European Commission, which focused on digitalisation and innovation.
Andrew's current work includes a study of micro-credentials in VET for Cedefop. He is an Associate Faculty Member at the Further Education and Training Research Centre and a Senior Research Associate at the Educational Disadvantage Centre, both at Dublin City University, Ireland.
Previous training modules
Module 1: Understanding apprenticeships in the EU
Module 2: Critical success factors for apprenticeships in the EU
Module 3: How to join the European Alliance for Apprenticeships
Module 4: Supporting in-company trainers in SMEs
Module 5: Involvement of social partners
Module 6: Going digital in apprenticeships
News taken from: European Commission >> Employment, Social Affairs & Inclusion
Read the original text HERE