News
RCC ESAP 2: Government partners from Western Balkans learn about the EU accession process, exchange experiences and introduced practices focusing on EU Aquis Chapters 2 & 19 during the Study Visit to Croatia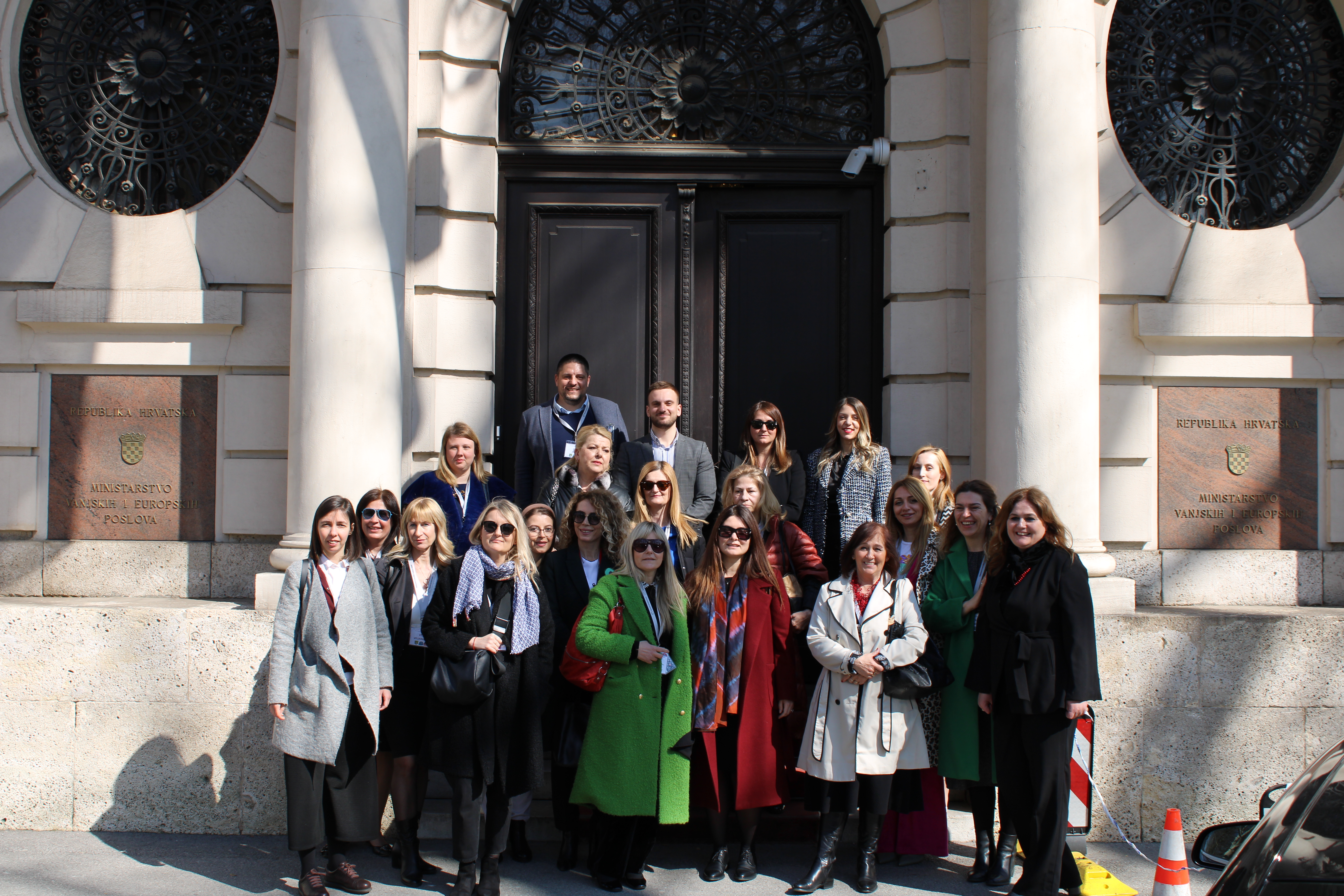 Zagreb – "Regional cooperation through partnerships, exchange of experiences, practices and lessons learned are an important aspect in the process of Western Balkan (WB) economies' accession to the European Union (EU). Peer-to-Peer cooperation represents exchange of experiences and lasting partnerships contributing to more efficient processes, practices, policies and measures in regard to alignment with the EU Acquis Chapters 2 and 19; all of these are elements of this Study Visit of the Western Balkan economies' representatives to Croatia. We are grateful to our host – the Croatian Ministry of Foreign and European Affairs for this excellent programme, but also to a number of Croatian ministries and government institutions for contributing to this Study tour", said Amira Ramhorst, Team Leader of the Employment and Social Affairs Platform 2 (ESAP 2) project implemented by the Regional Cooperation Council (RCC) and funded by the EU.
The three-day comprehensive program included presentations and site visits, combining theoretical and practical experiences and lessons learned. The theoretical part included presentations about Croatian experience with the Stabilisation and Association Agreement (SAA), screening, negotiations, administrative capacity, membership criteria, coordination; IPA funds; work done in the domain of employment, social policy, health and consumer affairs; organisational structure for implementation of European legislation on Coordination of Social Security; use of European Social Fund's (ESF) funds; pension system, etc. The practical part featured the effects of transformation of the Croatian Pension Insurance during the accession period to the EU; and finally the practical use of the European Social Fund's funds "Food through life/Strengthening the business of social entrepreneurs", where participants witnessed a real-life example of the ESF project that brings transformative societal change in Croatian business of social entrepreneurs sector.
VIDEO: See what Study Visit participants and hosts say
This Study Visit was thematic, focused on the EU Aquis Chapter 2 (freedom of movement for workers) and Chapter 19 (social policy and employment) and included sessions focused on the European Social Fund (ESF) as well as a site visit to a ESF beneficiary. The Study tour gathered 16 representatives from the Western Balkan economies focused on the EU accession processes, also members of the informal Western Balkan Network for alignment with the EU Acquis in the Chapters 2 and 19 established under auspices of the RCC's ESAP 2 Project in June 2021.
The 3-day Study Visit to Croatia was organized by the RCC ESAP 2 project and the Croatian Ministry of Foreign and European Affairs, who hosted the Western Balkan participants during this study tour. Representatives from the Croatian Ministry for Labour, Pension System, Family and Social Policy, Ministry of Regional Development and EU Funds and Croatian Pension Institute contributed to the Study Visit by ensuring relevant experts and contents from their field of work pertaining to employment and social issues.