News
Bregu: When women engage, take responsibilities, grow and help each other they can be a rising tide that lifts all boats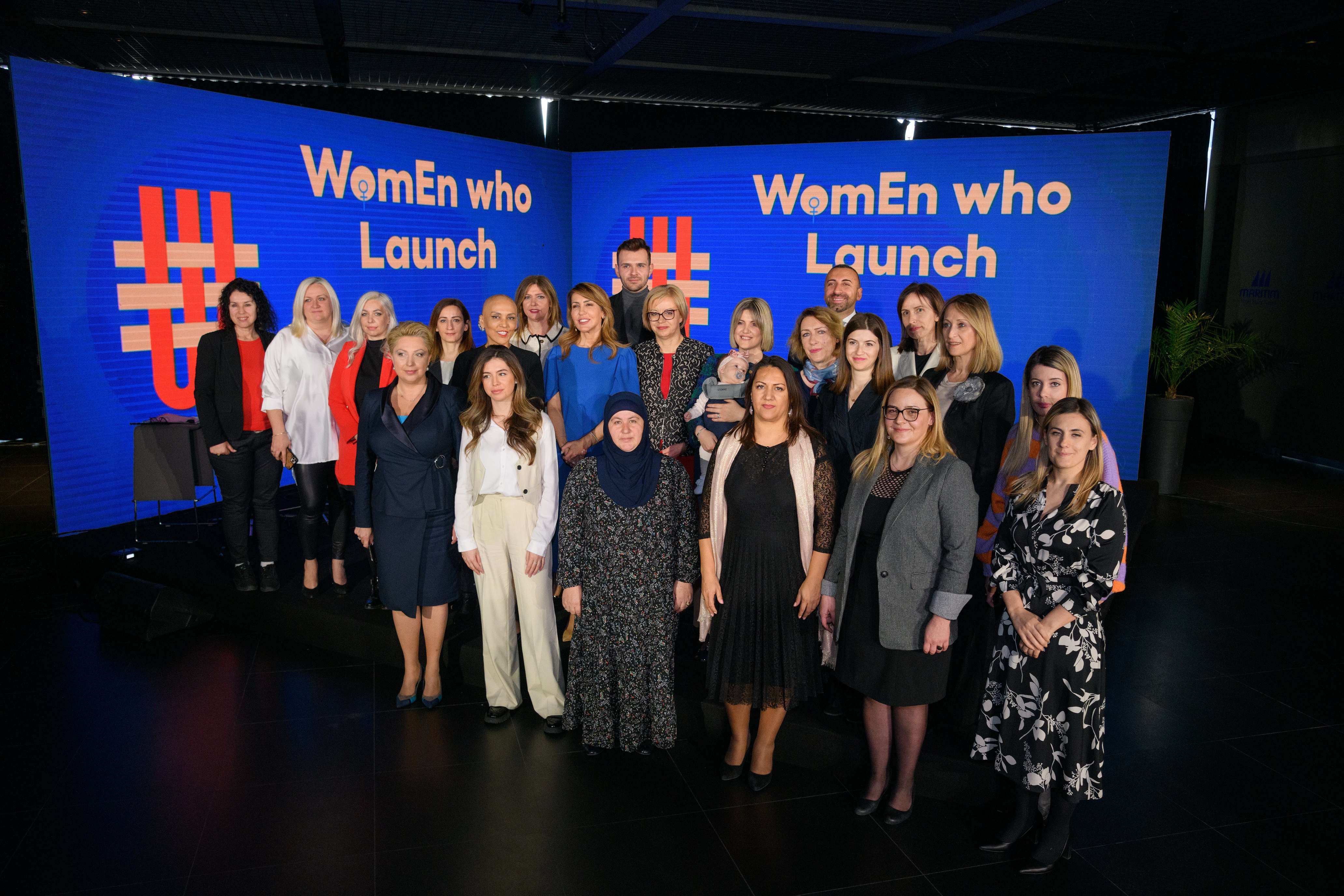 RCC launces the first Regional Women in Entrepreneurship Network in the Western Balkans
Western Balkans Women Entrepreneurs of the Year 2021 are: Blerina Ago, Aida Zubcevic, Valentina Taseva, Dragana Calija, Pakize Pajazitaj, and Arta Shehu Zaimi
Tirana – "The Regional Cooperation Council (RCC) is launching today the first Regional Women in Entrepreneurship Network in the Western Balkans. We will not boil the sea right away. But sometimes the smallest act can lead to the biggest impact. We will engage ourselves not only to connect women with each other but also to lend a helping hand with the informational support and mentorship for the start-uppers. And then, together, we will work on common endeavours such as financial challenges, including high start-up costs and equipment/maintenance fees, assets like cash grants or marketing, all the way up to policy making. One thing we at the RCC are sure of is that when women engage, take responsibilities, grow and help each other they can be a rising tide that lifts all boats," said Majlinda Bregu, RCC Secretary General, at the event launching the Regional Women in Entrepreneurship Network, in Tirana today.
Women in the Western Balkans represent half of the region's human capital, yet one in two women is out of the labour market. 38% of young women are unemployed. Only one in four of business owners in the Western Balkans are women. Just one in nine top managers of companies are women. The gender gap in economic participation remains too high in the Balkans, being the second largest worldwide. Unfortunately, the slow progress in closing this gap is making the world shake while calculating that we will take another 267 years to close it, IMF estimates.
"We need more women in the labour market to foster growth and prevent disasters. Each year the Western Balkans loses on average 18% of GDP due to gender gaps in the labour market. The region needs women entrepreneurs, if we want to have 5% of GDP growth per year. In emerging markets, women reinvest 90% of their earnings in their families and communities—which means that investing in women is an investment in our collective future. Therefore, closing the gender gaps in entrepreneurship must be a key part of any strategy aimed at competitive market and sustainable economic growth. Women´s economic empowerment is critical to our economies. Even more at a time when the global economy is suffering from an unprecedented pandemic and is entering a new crisis because of the shared challenges we will be facing because of the war in Ukraine," concluded Bregu.
Beside RCC Secretary General, the event was opened by Maciej Popowski, Acting Director General of DG NEAR, and Mirjana Spoljaric Egger, Assistant Secretary General of UN, Assistant Administrator of UNDP and director of the UNDP Regional Bureau for Europe and the CIS. It gathered a number of businesswomen from the entire region, and also served as an opportunity to recognise WB Women Entrepreneurs of the Year 2021.
Declaration on the launch of the Regional Network of Women in Entrepreneurship
Western Balkans Women Entrepreneurs of the Year 2021 are:
1. Blerina Ago, owner of Active Albania, Albania - Young Woman Entrepreneur
2. Aida Zubcevic, owner of Faveda, Bosnia and Herzegovina - Green Woman Entrepreneur
3. Valentina Taseva, owner of Semos Education, North Macedonia - Creative Woman Entrepreneur
4. Dragana Calija, owner of Saint Di, Serbia - Travel and Hospitality Woman Entrepreneur
5. Pakize Pajazitaj, craft business owner, Montenegro - Roma Woman Entrepreneur
6. Arta Shehu Zaimi, owner of Labbox, Kosovo* - Startup Woman Entrepreneur
More info on winners – https://www.rcc.int/pages/153/western-balkans-women-entrepreneurs-of-the-year
Panellists at the event included Marija Risteska, Regional Director of Gender Budget Watchdog Network; Sonila Abdalli, co-Founder of Destil Creative Hub; Amra Hasimbegovic, Director and owner of GMS Consulting agency; Zana Tabaku, CEO of Appdec; Arijana Mulic, co-founder of Ma Cherie and Navale restaurants; Vesna Miceva Todorovska, owner and General Manager of Congress Service Centre; Svetlana Ćopić and Maja Nadeždić, co-founders of Komleko.
The event has been moderated by Vjosa Berisha, co-owner and chief executive of B2 production company.
*******
More info of Women Empowerment activities of the RCC at https://www.rcc.int/priority_areas/52/women-empowerment
More info on the WB Women Entrepreneurs of the Year 2021
More info on WE
Watch the series ow Western Balkan Women Entrepreneurs videos:
Klodiana Ajazi, Director of Inovess Construction and Management and Novus Marketing and Advertising and co-founder of WOMEN'S ECONOMIC CHAMBER: https://www.youtube.com/watch?v=0v-BTe3EZiQ
Blerta Basholli, Director of Hive: https://www.youtube.com/watch?v=SAFSqnFDicM
Deklea Xinxo, founder of Shtepia e Zoterinjve nursing home: https://www.youtube.com/watch?v=SkiGKaJE1fQ&t=2s
Arijana Mulic, co-founder of Ma Cherie and Navale restaurants: https://www.youtube.com/watch?v=hUfM2CNUOu0
Zoja Kukic, co-founder of Startit: https://www.youtube.com/watch?v=m-01N-MkHYQ
Marta Naumovska Grnarova, owner and General Manager of Zavar: https://www.youtube.com/watch?v=x-p5skB40AQ
Uta Ibrahimi, founder of Butterfly Outdoor Adventure: https://www.youtube.com/watch?v=y0vSpUz8JP8
Iris Gjinovci, founder of SchoolMe: https://www.youtube.com/watch?v=nB9K2-A9-tM
Nada Markovic, founder of the first female cooperative: https://www.youtube.com/watch?v=ScM_bXdjtwM