News
Enhancing the performance of Western Balkan enforcement authorities in tackling undeclared work continued with 2nd session of ESAP 2 Mutual Assistance Projects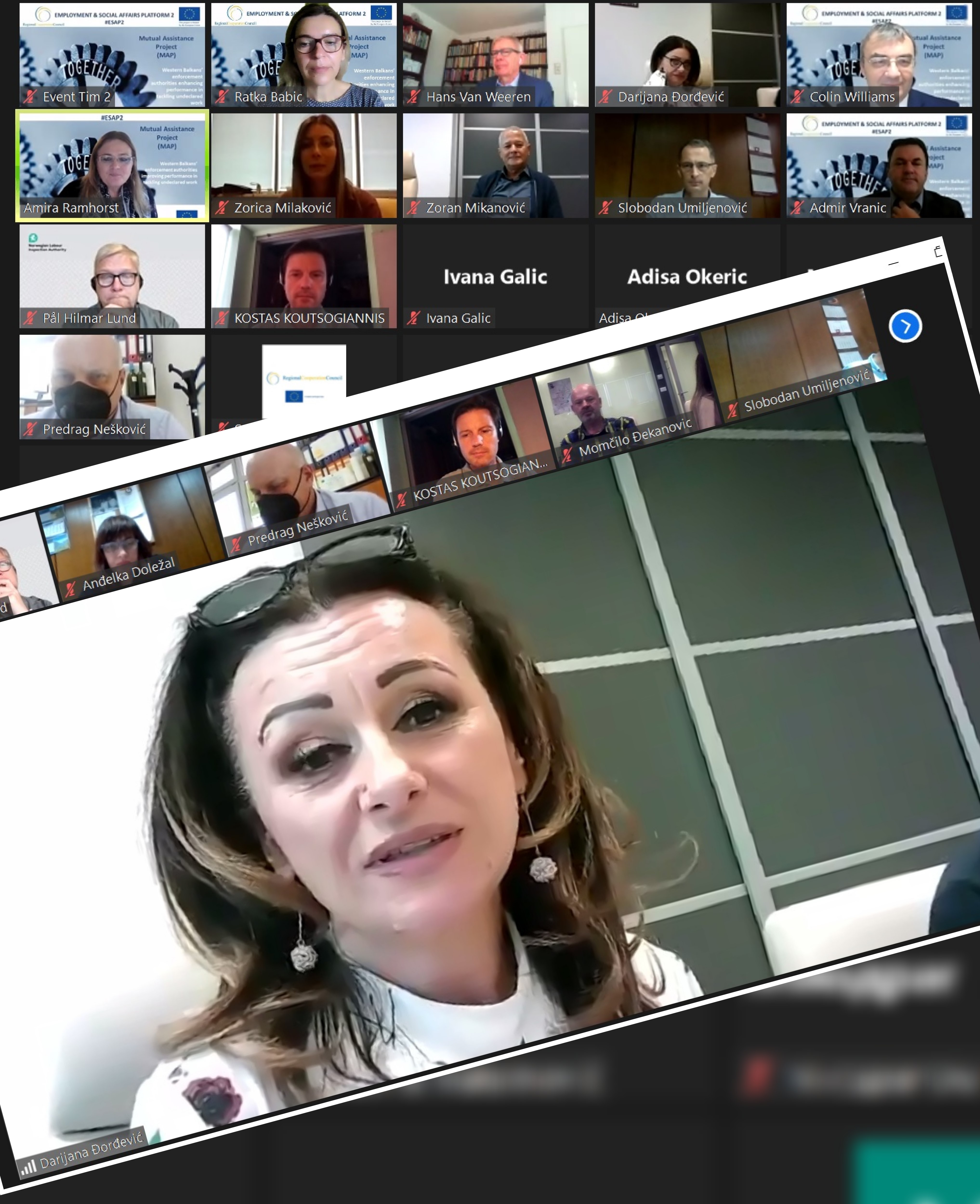 Regional Cooperation Council's (RCC) Employment and Social Affairs Platform 2 (ESAP 2) project in partnership with Republic Administration for Inspection Activities, Republic of Srpska Inspectorate, Bosnia and Herzegovina hosted the 2nd session in the 2021 series of ESAP's Mutual Assistance Projects (MAPs) aimed at enhancing the performance of Western Balkan enforcement authorities in tackling undeclared work.
The session was opened by Amira Ramhorst, Team Leader of the ESAP 2 project who appreciated interest and commitment of project's partners from the region in this mutual assistance facility, reiterating the success of the first MAP held two weeks ago. MAPs and the peer learning activities of the Western Balkans Network for Tackling Undeclared Work focus on issues related to undeclared work, aimed at transforming undeclared work to declared work through holistic, systematic approach.
2nd MAP was chaired by Colin Williams, ESAP 2 Lead Expert on undeclared work. Over twenty peer experts, including the representatives of the host inspectorate, peer experts from Montenegro and Serbia, Netherlands, Greece and Norway took part in this mutual assistance activity. The engaged discussion on how to enhance performance in tackling undeclared work included strategic and action plans aimed at decreasing informal employment; operations of labour inspectors in the field; coordination of activities with other institutions/bodies; data availability, collection, sharing and analysing; risk assessment, awareness raising, policies and incentives; partnerships with social partners, and building trust in enforcement authorities.
The host Inspectorate presented their modalities of work, followed by exchange of experiences of peers, identification of common challenges, ways to overcome these, while a set of peer recommendations and suggestions on how to best approach the identified challenges were provided within the MAP.
The ESAP 2 MAPs are designed as hands-on assistance to enhance performance of a host institution and provide exchange of experiences, in order to, where possible, replicate good practices of peers from the region, European Union and other European countries. The format of open and transparent dialogue of MAPs is a non-judgemental, learning opportunity for all the participants and helps solve issues, provide advice and implementation support.
Please find dates for the next MAP sessions on the ESAP 2 web events calendar.