News
Pilot measure to reduce the number of undeclared workers launched in North Macedonia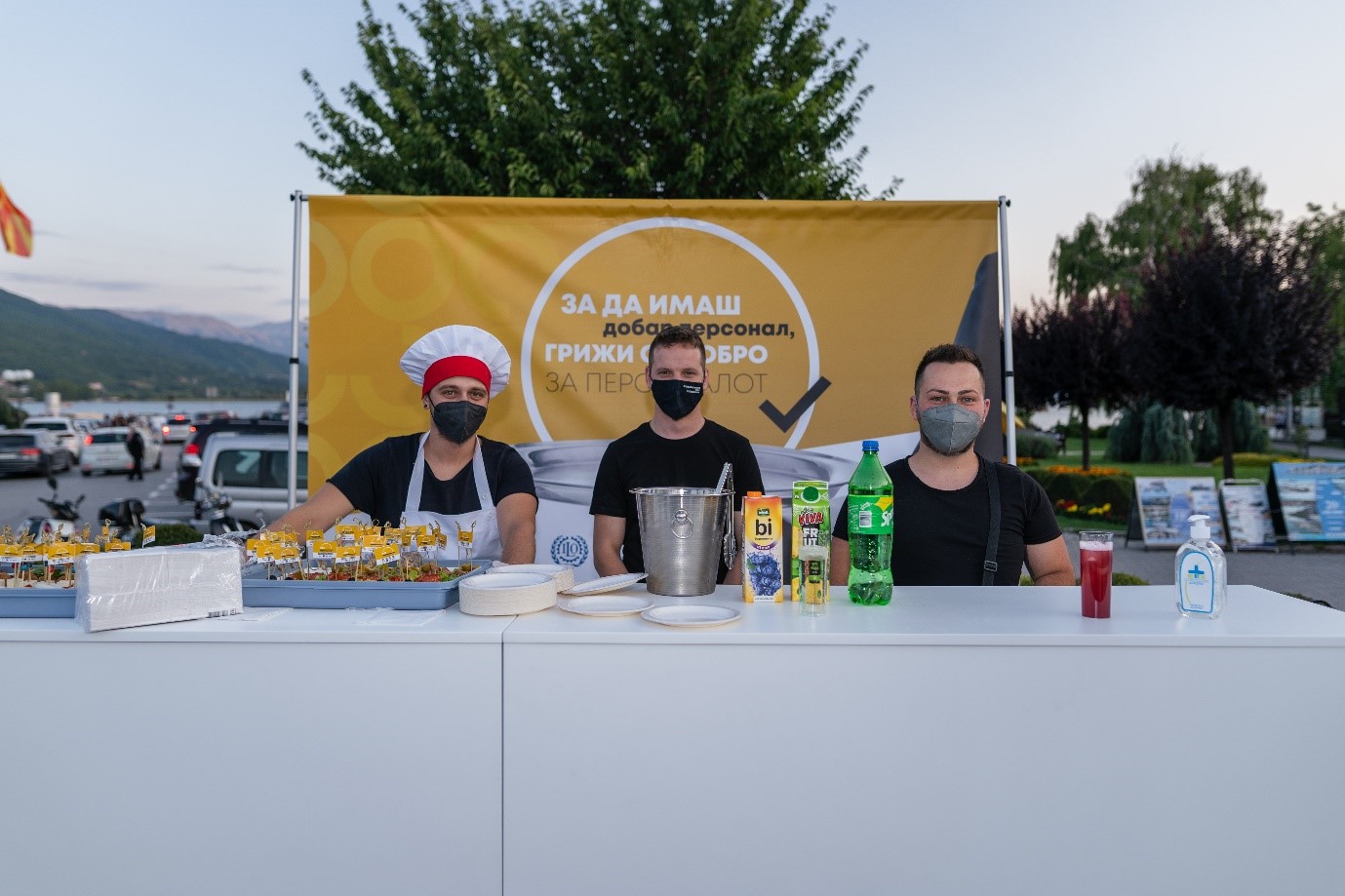 New pilot measure that aims to reduce undeclared work in the tourist and catering facilities was launched this month with awareness raising open-air events in Ohrid and Struga, North Macedonia. The pilot measure is part of the projects Employment and Social Affairs Platform - ESAP 2 and Strengthening the social dialogue. Both projects are financed by the European Union and implemented by the International Labour Organisation (ILO).
To accomplish its aim, the pilot measure will cover part of the social security contributions for workers in hospitality sector in Ohrid and Struga regions and ensure support in the implementation of required administrative procedures.
In addition, pilot measure will also enable simpler transfer of employees between two tourist and catering facilities, as well as offer opportunities for additional training for workers to acquire appropriate skills. This will be followed by the online platform for connecting employers and workers.
Wider campaign to raise awareness
This pilot measure joins forces with the wider campaign to raise awareness of the negative impact of undeclared work on the economy and society launched by the Economic and Social Council (ESC) in cooperation with the Ministry of Labour and Social Policy of North Macedonia, Organization of Employers and the Federation of Trade Unions in North Macedonia.
Under slogan "To have a caring staff, take care of your staff" the campaign was presented to public and media on press conference held on July 18, 2021.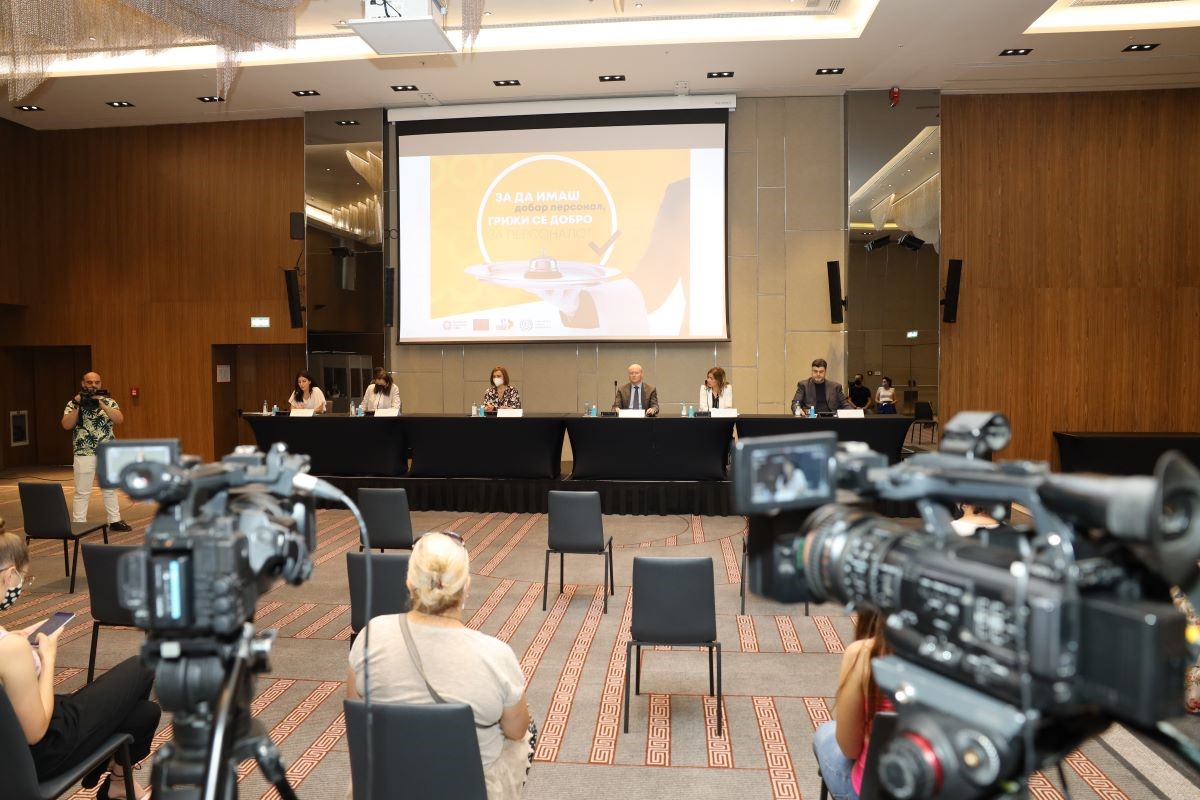 "The analyzes show a favorable trend of decline in informal economy in the official GDP, and I believe that this trend will continue as a result of several processes that the Ministry of Labor and Social Policy and the Government are undertaking to reduce the informal economy. In that direction, we have prepared a Strategy for formalization of informal work for the period 2018-2022 in order to create a comprehensive and consistent system for effective reduction of informal employees. I am convinced that this campaign will make a significant contribution to raising public awareness of the benefits of formal work and workers becoming the part of the system," said Jagoda Shahpaska, Minister of Labor and Social Policy.
Present at the press conference was Freek Janmaat, Head of Operations Department at the European Delegation in Skopje, who noted: "Hiring undeclared workers creates unequal conditions for labour market participants, and people who work in this way for various reasons can not exercise their rights. In order to reverse this phenomenon, we must work together and create a strong systemic framework."
To ensure a systemic approach, it is necessary to strengthen the control and sanction those who do not comply with labor regulations.
"Our analysis concluded that the repressive policy did not yield satisfactory results in dealing with informal work and its transformation into formal employment and therefore labor legislation underwent changes with an emphasis on prevention before repressive measures", said Jovana Trenchevska, director of the State Labor Inspectorate.
Promoting workers' rights and their protection
An important goal of this campaign is to further promote workers' rights and their effective protection.
"The reduction of the informal economy and its negative consequences can be expected only through the implementation of integrated and joint activities of all institutions in the country" said Darko Dimovski, President of the Federation of Trade Unions of North Macedonia, who also used this opportunity to appeal to workers to use the new free mobile application SSM – my labor rights, developed together with the International Labor Organization, through which workers can anonymously report a violated labour rights.
The President of the Organization of Employers of North Macedonia, Vladanka Trajkovska emphasized: "Reducing the informal economy is a key step in establishing a predictable and stable business environment and a level playing field and healthy competition for employers who work and obey the law."
The campaign is implemented by the ESC in cooperation with the projects Employment and Social Affairs Platform - ESAP 2 and Strengthening the social dialogue funded by the European Union and implemented by the ILO.