News
Meeting of ILO and Republic Agency for Peaceful Settlement of Labour Disputes in Serbia representatives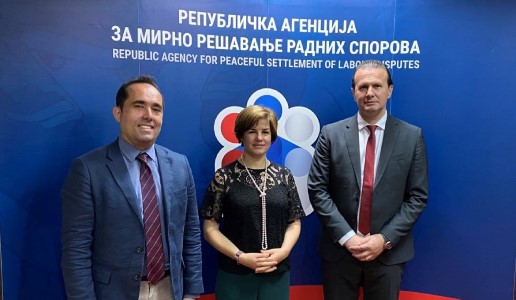 The visit was organised on the occasion of the implementation of the project Employment and Social Affairs Platform - ESAP 2, a regional 3-year project funded by the European Union (EU) and implemented jointly by the Regional Cooperation Council and International Labor Organization (ILO).
During the meeting the Agency Director, Ivica Lazović, informed Mrs. Huibregtse about the Agency practical experience, with special focus on digitalization of the procedure that Agency was first in the region to implement.
Joint cooperation was also discussed at the meeting where ILO ESAP 2 team will support the Agency in seeking to improve its effectiveness through digitalization, as well as through establishment of a common set of performance criteria. In addition, for the duration of ESAP 2 project, Agency will also be supported in their use of the online peer reporting system developed by ILO.
Having in mind that the cooperation of the Agency and ILO on the project so far was positive, a number of activities was agreed in order to promote alternative forms of resolution of labor disputes.
Agency agreed to host, through ESAP 2 project, a regional annual conference of national agencies for peaceful resolution of labor disputes in Belgrade in October. It was also agreed to examine the possibility of professional development of conciliators and arbiters by the ILO at its training center in Turin.
To learn more about ILO's work in Serbia, click here.