News & Stories
Miscevic: Addressing livelihood topics of social rights - jobs, wages, access to education, health care – more important than ever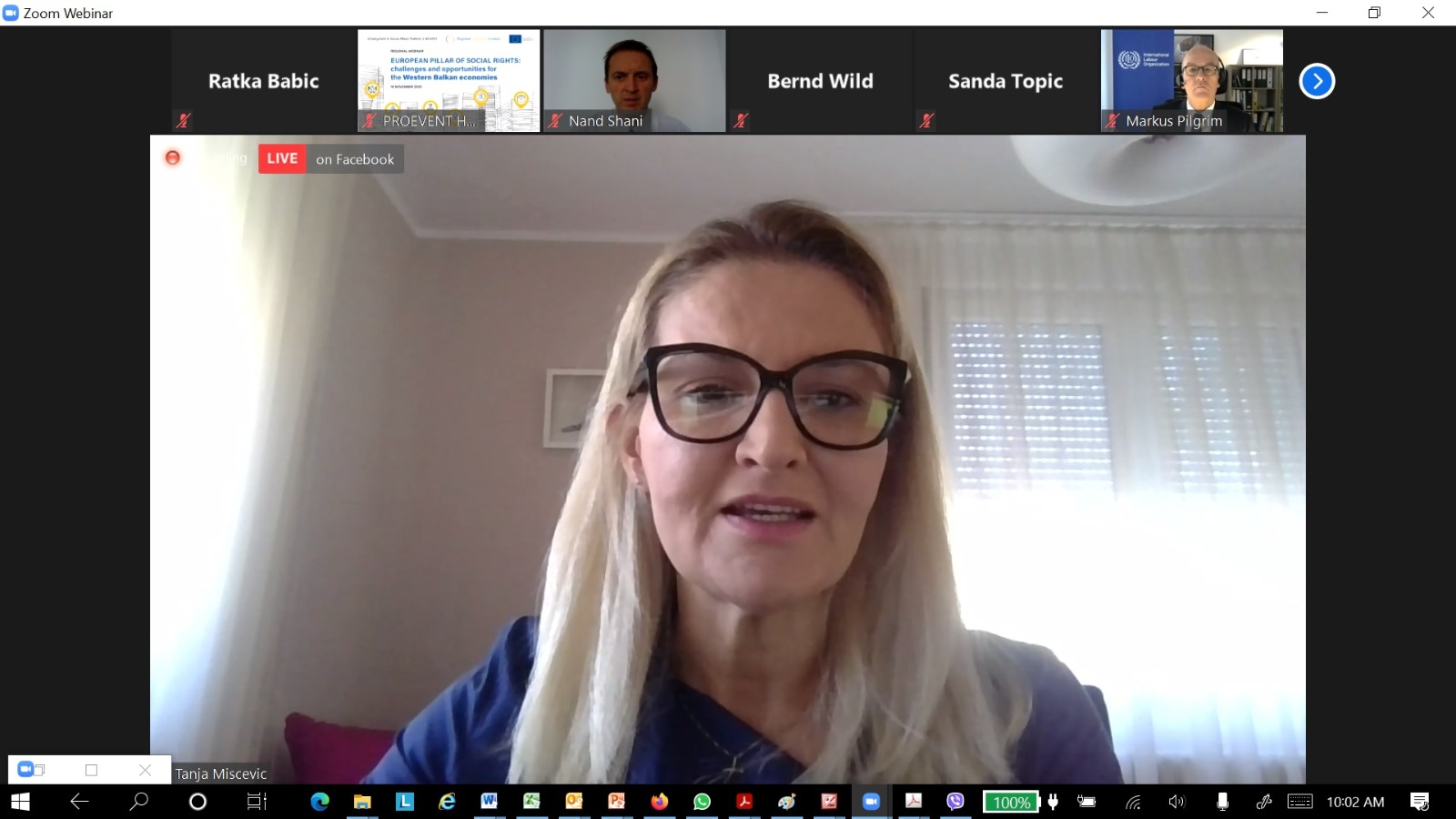 Regional meeting on challenges and opportunities of Social Rights in the Western Balkans held online today
Sarajevo/Brussels/Tirana – "It is no longer news that Western Balkan societies fall short in many socio-economic aspects. We, together with our partners – governments in the region, European Union (EU) and many others, work to reduce this gap between the region and the EU. Common Regional Market recently adopted in Sofia is a plan on how to overcome these challenges by boosting trade, investments, digitalisation, connectivity, etc. But now, in these unprecedented times of uncertainty, caused by the COVID 19 pandemic, social rights are more important than ever, and need to be addressed immediately, as here we talk about basic livelihood topics: jobs, wages, access to education, inclusion of vulnerable social groups, health care, access to water and sanitation, etc.," said Tanja Miscevic, Deputy Secretary General of the Regional Cooperation Council (RCC) at the opening of the regional meeting 'European Pillar of Social Rights: challenges and opportunities for the Western Balkan economies' taking place online today.
Inequality in the Western Balkans is high: the ratio of average income of the richest 20% of the population to the average income of the poorest 20% of the population ranges between 6.2 and 8.6, higher than the 5.2 average in the EU. Inequality disproportionately affects women, youth, Roma or persons with disabilities and these issues should be addressed as a matter of priority.
"The question before us today is how our governments can help improve the lives of citizens and support more inclusive and fairer societies, especially for youth. The region needs to find a way to make it more attractive for our young people to stay here and not leave, as brain drain is becoming ever bigger problem in the Western Balkans Six," added Miscevic.
Markus Pilgrim, Director of the International Labour Organisation (ILO) Office for Central and Eastern Europe, highlighted the importance of social dialogue, saying that the key assumption for social dialogue to matter for economic and social progress is that its potential benefits are higher than the costs, adding also the time factor as important, as social dialogue takes time, and quick reactions are much needed in crisis.
Talking about the European Integration and Employment Policy, Jordi Curell Gotor, Director at the European Commission's (EC) Directorate General for Employment, Social Affairs and Inclusion stressed that an economy which does not fight inequalities would not function. He underlined that regional approach to social rights challenges through exchange of best practices, information, and experiences and learning from each other can be very useful.
Regional Overview of Western Balkan Economies Regarding the European Pillar of Social Rights prepared by the RCC's Employment and Social Affairs Platform 2 (ESAP 2) project, based on six national reports from Western Balkan economies shows that important challenges remain also in the areas of access to labour market and equal opportunities. Only 1 in 3 citizens aged 20-64 does not participate in the labour market, but women are much more likely to remain inactive (more than 46% of them). The employment rate for the age group 20-64 has reached an all-time high of 59.1% in 2019, compared to 49.5% in 2012. While the increase in employment has been impressive, it falls short of 73.9% of the EU-28 in 2019 and 75% employment target of the EU 2020 Strategy.
Today's online regional meeting discussing the performance of the Western Balkan economies regarding the implementation of the European Pillar of Social Rights, and challenges and opportunities for the region, was organized by the RCC's Employment and Social Affairs Platform 2 (ESAP2) project together with the EC's Directorate-General for Employment, Social Affairs and Inclusion. The meeting brought together representatives of Ministries of Labour, Ministries of Education and Ministries of Finance from the Western Balkans, as well as representatives of the European Training Foundation (ETF) and the International Labour Organization (ILO).
NOTE: Entire meeting available at RCC's Facebook profile.
***

The European Pillar of Social Rights is a relatively new initiative, endorsed at the end of 2017 at the European Social Summit for Fair Jobs and Growth. It has re-affirmed at a high political level its 20 principles that span across the areas of equal opportunities and access to the labour market, fair working conditions and social protection and inclusion.