News & Stories
RCC ESAP 2: Strengthening Enforcement Authorities' Efforts in Combating Undeclared Work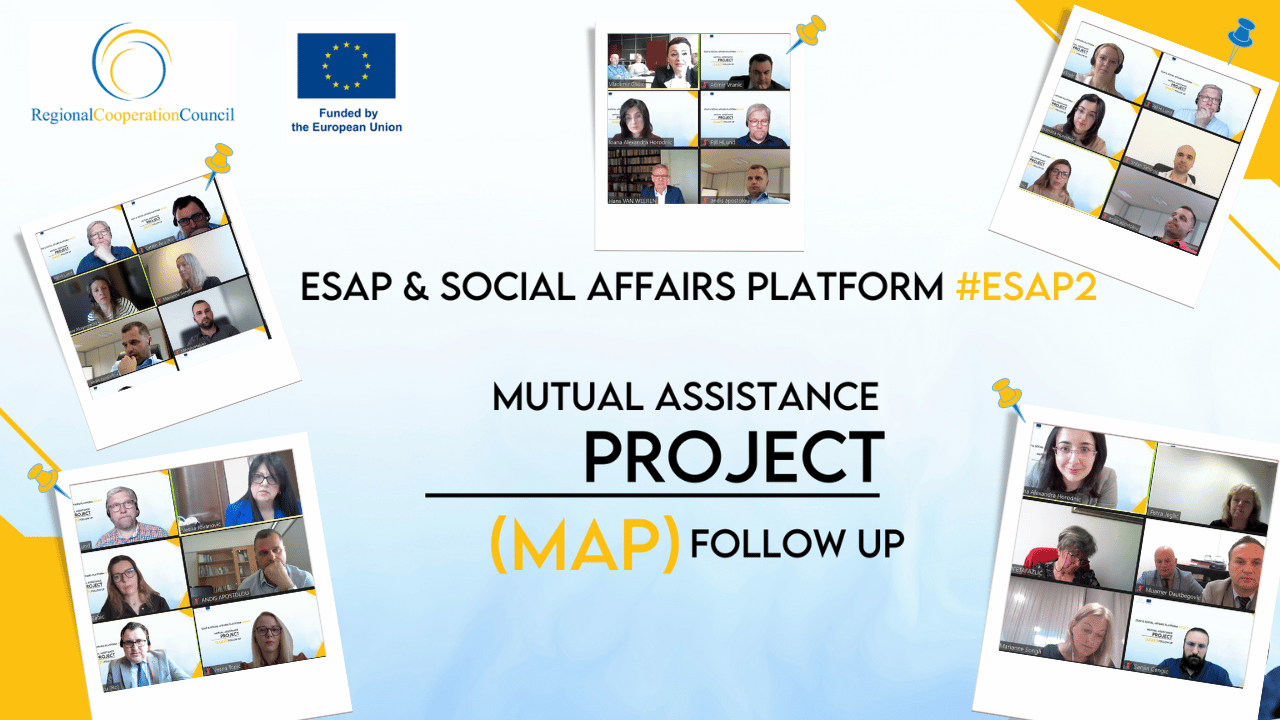 ESAP 2–organised 2023 Follow-Up MAP visits reflect on progress made in tackling undeclared work in Western Balkan economies
A series of follow-up workshops to the initial 2021 Mutual Assistance Projects (MAPs) for enforcement authorities in Western Balkan (WB) economies, organised by Employment and Social Affairs Platform 2 (ESAP 2) project of the Regional Cooperation Council (RCC), was held online in the period 15 May – 15 June 2023.

This initiative involved Labour Inspectorates and Tax Administrations from Bosnia and Herzegovina, Kosovo*, Montenegro, and Serbia. The MAP follow-up workshops focused on series of reccomendations on how to enhance performance of enforcement auhtorities in tackling undeclared work as per best European experiences and practices that were issued at the end of the initial MAPs series back in 2021. The WB enforcement authorities reported progress made on each individudal reccommendation in the domain of strategic objectives, holistic approcah including coordination of activities, data mining, sharing and anaysing for better detection, deterence and preventative policies and measures, and public outreach.
The team of the European experts gathered by the RCC's ESAP 2 team together with their peers from the WB worked collaboratively to share experiences, best practices and challanges, exploring the most effective ways to transform the undeclared into declared work, against the background of each individual economy involved.

The 2023 Follow Up MAP visits were led by Ms Ioana Alexandra Horondic, ESAP 2 expert on undeclared work, under overall guidance of ESAP 2 team, and with the support of European Platform for Tackling Undeclared Work experts Ms Eleni Alogogianni - Labour Inspectorate Greece, Ms Marianne Songli – former staff member of Tax Authority Norway, Mr Pal H. Lund - Labour Inspectorate Norway, Mr Catalin Tacu - Labour Inspectorate Romania, Hans Van Weeren – retired offical of the Labour Inspectorate Netherlands, Petra Jeglic - Slovenian Tax Authority, and Mr Andis Apostolou - Labour Inspectorate Cyprus.

According to the latest available data, share of undeclared employment in the WB region is estimated to range from 12% to as high as 36%, while the EU estimates in average are around 12% Informal employment for the WB represents one of the major setbacks to the economic developement as its rates are presistenly high. It undermines the overall economy by hindering productivity, reducing tax revenues, and limiting the government's ability to provide essential public services. It creates unfair competition for formal businesses that comply with regulations, leading to market distortions and reduced economic growth.

On the other hand, undeclared workers often lack access to social protection mechanisms such as health insurance, retirement and unemployment benefits. This leaves them vulnerable to financial instability, and in vicious cycles of poverty, especially during times of crisis, which was well visible during the COVID-19 pandemic.

The commitment and collaborative approach demonstrated during the 2023 MAP follow-up workshops reconfirmed the common dedication to address the pressing issue of undeclared work in the region. By continuos learning and sharing experiences and best practices, adjusting approaches to evolving labour markets, and improving capacities and joining forces, the ESAP 2 partners from the Western Balkans, gathered in the regional Newtork Tackling Undeclared Work, once again reconfirmed their commitment to cooperate thus improving their capacities to combat this challenge.